The Nest Recipe: Drop Scones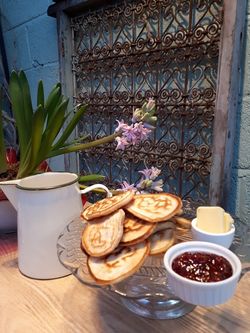 Also called Scotch Pancakes...
Ingredients
200g Self Raising flour
1/2 tsp salt
1 Large free range egg
250ml/1/2pint of milk
25-50g butter
tablespoon of caster sugar
Method:
Sift flour and salt into bowl, add sugar and mix to smooth creamy batter with the whole egg and half the milk. Stir in the rest of the milk.
Brush large heavy frying pan with melted butter, heat on a moderate heat. Drop small rounds of scone mixture (a table spoon works well for small scones) and cook until bubbles show on the surface and start to burst (2-3mins). Carefully turn over and cook for a further 2 mins.
Pile cooked scones in a clean folded tea towel to keep moist and warm for immediate serving
If serving sweet (with butter, jam, golden syrup, honey, peanut butter, chocolate spread...), add 1 level tablespoon of caster or brown sugar to the batter and replace the salt with 1 tsp mixed spice.
If serving savoury (with scrambled egg, smoked salmon, cream/goats cheese, bacon...) then add finely chopped rosemary and black olives or 1tsp mustard powder and a handful of grated cheddar cheese.
Top tip: Make the batter a few hours earlier and leave to stand before cooking the scones.
This recipe was kindly provided by Neil from The Nest near Ledbury, a Family Friendly Deli Cafe serving local and artisan produce. You can find The Nest on the Hereford Road, a few miles outside Ledbury.