The Nest Recipe: Mince Pies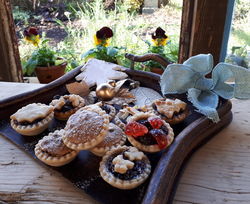 Ingredients
Pastry
125g Butter
250g Plain Flour
50ml cold water
Filling 1
30g melted butter
1 large free range egg
170g soft brown sugar
115g roughly chopped pecan nuts or toasted hazelnuts
Mix the above ingredients together
Filling
400g jar of mincemeat
Add chopped cherries, finely chopped apple, flaked almonds
Method
Rub the butter into the plain flour until you get fine breadcrumbs. Add 50ml of cold water and bring together to form a smooth dough. Knead lightly, roll out quite thinly and cut out using a circular cutter. Place into a 20 hole mini tart/muffin tray, the ingredients should make 40 mini pies/tarts.
Use a teaspoon of either filling to carefully fill the tart cases. Using any of the left over pastry, cut shapes to top the mince pies or when cooked use ready rolled icing and cut shapes to decorate.
Cook in 180˚C fan oven for about 15/20 mins until evenly cooked and lightly browned. Shake with icing sugar.
This recipe was kindly provided by Neil from The Nest near Ledbury, a Family Friendly Deli Cafe serving local and artisan produce. You can find The Nest on the Hereford Road, a few miles outside Ledbury.