The Nest Recipe: Simple Cheese Straws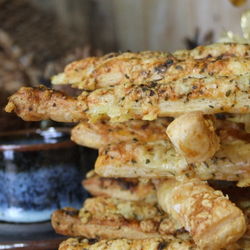 Bake ahead and store in an airtight container, enjoy with drinks, dips, hummus and more as an alternative to crisps, serve with cheese and port... snack when you are feeling peckish.
Ingredients:
375g short crust/puff pastry
1 Free Range Egg beaten
A generous handful approx 50g of any of the following: freshly grated parmesan, grated cheddar, crumbled stilton, goats cheese a mix of your favourites
A sprinkling of: freshly chopped herbs, smoked paprika, sesame seeds, cayenne
A shake of garlic sea salt, celery salt
Lay the pastry on a cutting board, brush generously with the beaten egg, cover with your favourite cheese and your choice of sprinkles or shakes ...
Cut with a sharp knife 0.5cm strips and lay flat on a baking sheet lined with baking parchment and cook in pre heated oven 200c/180c fan/gas 6 for 25/30 mins or until golden and crisp. Check during cook and turn in order to cook evenly.
This recipe was kindly provided by Neil from The Nest near Ledbury, a Family Friendly Deli Cafe serving local and Artisan produce. You can find The Nest on the Hereford Road, a few miles outside Ledbury.
01531 670816