The Wyche Innovation Centre
Wyche Innovation Centre, Walwyn Road, Upper Colwall, Malvern, WR13 6PL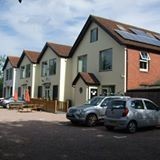 In addition to furnished office space, equipped with Internet and optional phone, tenants enjoy the use of a shared meeting room, reception area, tea / coffee facilities, hot desks, cafe / catering, and free on-site parking.
We also host other business services such as virtual offices, networking events, strategic business planning workshops, and links to other organizations that can help you develop and finance your business.
And if you need yet further inspiration, fresh air and stunning views are just outside...

Show location on a map
Related Pages
Setting up Cafe H20 at the Wyche Innovation Centre in Upper Colwall was lots of work but very rewarding according to the women behind the idea. Cafe H20 is run as a co-operative by people with learning disabilities. 'We have 15...

Read more »