Wellington Health Memorial Village Hall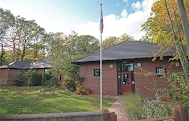 Ledbury Road, Wellington Heath, Herefordshire HR8 1ND
The small meeting room has a projector, DVD player, sound system and screen suitable for up to 20 people,
The main hall and stage area which seats approximately 120 people (approx 200 standing) which is equipped with a sound and lighting system, and changing rooms, suitable for amateur theatre productions. There is also a ceiling mounted projector and a wi-fi enabled Blu-ray player which has been 80% funded by a Community Technology Grant from Herefordshire Council.
In addition a kitchen with cooker, microwave, fridge, commercial dishwasher, crockery etc. and internet connectivity via wi-fi is available for any hirer.
The Hall has a car park for a total of approximately 20 cars split into two areas. An area approximately 25metres by 20 metres is available to the North East of the Hall and an area of approximately 28 metres by 9 metres to the North West of the Hall. In addition parking is also permitted on the Ledbury Road adjacent to the Hall.
For booking details and more information please visit our webpage.