Why advertise with us?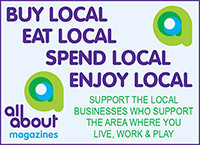 Affordable targeted advertising that works!
We help your business get its message out, in print, online and on film. Choose one product, or go for the whole package - an advert in the magazines, leaflet insert, a banner online, social media push and a film for on your website - it is up to you and what you need to promote your business.
The Brand: Magazines, websites and social media with attractive design and a recognised local brand. Your adverts and promotions are seen:
In the magazines, because they have an 8 week shelf life. Households keep the magazine and refer to it regularly
Online, because the websites and social media are visited and revisited by thousands of people each month
Content: Quality content produced by an experienced journalist and photographer. Our products are a recognised source of local information
Maximise your brand image through words and photos
Budget: Something to suit every budget and flexible too
Choose to be online or offline
Reach from 7,000 to 33,500 homes and businesses in print
Choose and change the service you receive according to the needs and budget of your business
The Magazines: 33,500 free copies delivered to three carefully chosen areas
Choose to go in all three magazines to get your message out or focus your advertising budget on the homes you want to reach or that are in your area
Target a specific area with a very local focus and adapt your message accordingly
We reward loyalty:
Free advert design service
Free editorial for longer term bookings
We are friendly: An approachable team with an open door, we have a friendly style of doing business
We always go the extra mile to help you
Once you are our customer we refer you to others whenever we can
Additional services:
Online marketing opportunities to promote your business to a younger audience and different people in each household, reaching thousands of extra people. Even if you struggle with the internet, we can get your message online. Updates 365 days per year, a lively and varied What's On guide, an effective Business Directory, Quality local content, search engine optimised, ranks very highly on Google and visited by more than 4,000 people a month.