Worcester Canal Group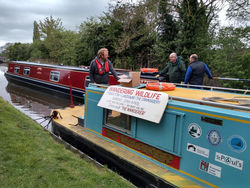 For the last eight years, members of the Worcester Canal Group have been tending to and improving the section of the Worcester and Birmingham canal that runs through the heart of the city. One of the group's founding member is Matt Jenkins, who tells us more.
How did the group begin?
Back in 2012, an elderly resident of the Arboretum who was always out walking the towpath, decided she wanted to do something to keep the area tidy and enjoyable to visit. The canal is such a great amenity and a small number of us decided to come together and enhance it.
We contacted the Canal and River Trust and they allowed us to adopt this stretch of canal. We have promised to look after things like litter picking and other tasks, while in exchange they help us with more technical projects.
The Canal and River Trust has an open working barge. One of our members can weld and helped to re-fit and repair it. We are hoping to use it occasionally for maintenance work.
What do your volunteers do?
We look after the stretch that runs from the lock above The Commandery to the bridge at Bilford Road. This is popular with local people and the numbers during lockdown proved how much it is appreciated.
We have around 50 people on our mailing list, and every month volunteers turn up for our litter picks. These take place on the last Saturday of each month and we spend around 90 minutes using equipment we provide to clean up the area.
You would be surprised how enjoyable a morning of litter picking can be! We are usually a group of around 12 people, but at the end of the last lockdown in March, more than 35 people came along. It's a social activity, doing something positive, and we get many appreciative comments from people walking past.
Occasionally somebody arrives with a canoe which helps us reach hard to get rubbish. We usually collect enough litter to fill a saloon car, taking it away to be recycled. Over the years we have completed more than 100 sessions, so in that time we have removed a lot of rubbish.
What other projects are you involved in?
Some of our group are interested in the environmental aspects of the canal, and carry out improvements such as tree planting. We organise wildlife walks, have carried out a moth survey, and from this we have a much better idea of the great variety of wildlife in the area.
We are putting in benches, which helps people who might have mobility issues to get out and enjoy the fresh air. A couple of years ago we cleaned the bed of the canal using grappling hooks, and dredged up all kinds of bikes, shopping trolleys, and even a motorbike!
The canal is a great resource for the city and we want to make sure it stays that way.