Worcester Male Voice Choir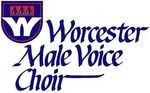 The Choir is proud of its title Worcester Male voice Choir and pleased to promote the City at home and abroad. The links with the City of Worcester and with every Mayor who comes into office is strong; their attendance at our concerts, at our awards ceremonies and hosting visiting choirs is really positive and very important. In return we support the City elders through concerts at the Guildhall and singing at formal civic functions in the Cathedral. The Choir also works with the Worcester Twinning Association which have links to Le Vesenet in France and Kleve in Germany both of which we have visited.Only Worcester in the USA to complete the set! We perform at the occasional Worcester Warriors match and support many local charities including St Richards Hospice and Acorns. We are also very pleased to work closely with Pershore Town Council and the staff at Pershore Abbey, the latter being a splendid venue for our two Christmas concerts. We also work closely with the international renowned Malvern Motors in Malvern singing at a variety of their events. The Choir is sponsored by St Peters Garden Centre Worcester and the Lawns Care Home in Kempsey.
The Choir have also recently entered into a mutual sponsorship deal with Worcester Wheels a very important Community Transport organisation and we hope to contribute in a wider sense to our community along with many other bodies helping to sustain and develop services in our city
In addition to the singing and performing if you wish you can enjoy the other activities the Choir organises -golf, walking, bowls, themed lunches, picnics, dinners and the traditional party style afterglow after a concert. All part of the WMVC experience !
Are new choristers welcome? What level of musicianship do you need to join?
Absolutely! We welcome potential choristers any time. We do not put a limit on choir membership numbers. The Choirs commitments are many and varied and the more choristers we have the more we can respond to demands for our services. We have at the very least one formal concert each month plus a variety of other engagements so the more choristers we have the more who will be available on each occasion we have a booking. Also as in any organisation we need to have a succession policy so as people retire from singing we need to replace them to keep healthy numbers. Having said all that we have more than a few choristers who have been members for over 25 years.
We do not require a chorister to be able to read music. The real requirement is to enjoy music, enjoy singing, , be prepared to learn the pieces we sing and above all be committed.
You can simply come along to a rehearsal at the Angel Centre on a Monday or Wednesday evening at 7.15pm and see what we get up to. Don't be afraid to come you will get a really warm welcome.
Worcester Male Voice Choir are also available for wedding ceremony, family or corporate occasion hire.